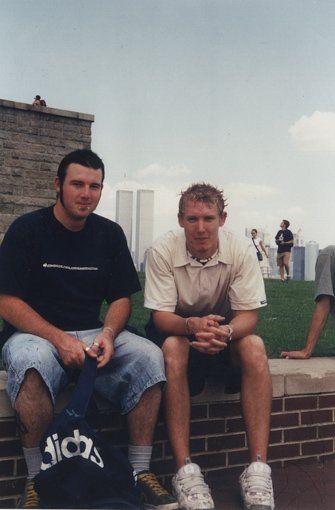 New York City,
July 2001.
I recently came across this photograph of my buddy Lee and I. We are sitting at the foot of the Statue of Liberty on Ellis Island in NYC, with the Twin Towers nestled safely in the background. Reflecting upon this image, I can't help but realise how transient life can be. This was my first trip outside of Australia, I was still at university (although I was cutting class to travel the world) studying design and I had no idea what the future was going to hold. I carried a camera everyday but I had no idea that I would soon aspire to be a photographer. I didn't know it at the time, but this trip was laying the foundation in me for how important it is to document one's existence. Lee had a lot to do with me realising this, as we both fooled around with our cameras and made sure that we got good pictures of the places that we visited. We both returned from this trip with at least 20 rolls of film each. Thinking about it now, that's probably the first time I got excited about getting non-graffiti photos back from the developers.
Two months after this photo was taken, those towers returned to the earth and the world we live in was altered forever. This occurrence affected my world even though I was safely back home in Australia. Over time it would come to change my view points on human dependance, religion, politics, greed, control and FEAR, but more importantly it changed the perception of photography globally - in one foul swoop it was all of a sudden acceptable for our every move to be recorded by surveillance cameras in the name of protecting us, and it turned photographers into terrorist suspects.
Anyways, moral of the story is; shit was simpler then, but everything that has happened along this journey has shaped my existence and been instrumental in building me into the human that I am today. Life is complicated, but life is good.
That is all.